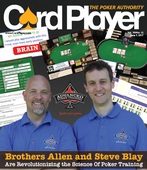 Are you ready to play the best poker of your life?
Steve Blay is now available for one-on-one coaching
Poker Advisor to Qui Nguyen at the 2016 WSOP Final Table
Founder and Software Designer behind Advanced Poker Training
Game Theory and Poker Math expert
How
Generally, via phone or Skype
-or-
Live coaching may be available in Las Vegas
and North Florida / Jacksonville / Tampa area
Rates
$300 per hour
$500 for 2 hours
$1,000 for 5 hours (can be divided into several sessions)
About Steve Blay
Steve Blay is a software engineer and poker coach. He is the founder and programmer behind AdvancedPokerTraining.com, which allows members to learn while playing poker against over 8000 lifelike opponents. Since 2009, the site has had over 30,000 members from 27 countries.
Blay received national attention when his computerized simulation correctly predicted Qui Nguyen's dominating victory at the WSOP Main Event. When the news reached Qui's family, they flew him to Las Vegas to serve as Qui's personal poker advisor during the Final Table.
Blay is also a certified chess coach and poker tournament director.
Blay coached under the alter ego "Steamin' Steve Stokely" (www.stevestokely.com) until 2013, when he took an extended break from one-on-one coaching to work full time on Advanced Poker Training. The opportunity to be part of "Team Tommygun" at the 2016 WSOP brought him back.
Testimonials
"I want to thank Steve Blay for his help and support before and during the final table!" -- Qui Nguyen, 2016 World Champion
"In preparation for a NL tournament, I engaged Steve Blay as a coach. He is world-class and it's been an extraordinary learning experience and a lot of fun. Steve brings mathematical rigor, deep analytical experience and a warm personality to every conversation. He's gently and patiently getting me to a whole new level of play." -- P.B., Brooklyn, NY
"Good Morning Steve, I wanted to take a couple of minutes and let you know that I enjoy the coaching that you provide and I am truly glad that I found you. Your style of coaching is one that I look forward to. You have a great ability in moments that I am really confused as to my play, to showing me a different way to look at the situation. Although I have read many books on poker and watched many videos, working with you and bringing all of those tools together has not only improved my game but also my understanding and confidence of the game tremendously. When I spend money, I look for the best value and this is where the value is recognized the most." -- Eddie Brown, Las Vegas, NV
"Congratulations Coach Steve, for transforming me into a winning poker player! Because of your unique and personal training style I am now cashing in more tournaments than ever before. Through our lessons you instantly spotted my weaknesses in proper betting sizes and hand ranges. Your feedback turned that part of my game around.
I believe if one is looking for a coach I firmly recommend they call you, Steve. You are an insightful coach and a pleasure to work with. A bonus is your "Advanced Poker Training" site for practice. It's definitely the best poker training site in the market. I really appreciated your patience with me throughout my WSOP Main Event prep. I may not have won - but I know I felt more confident and actually went deeper as a result of your coaching." -- Janie Maddox, Monterey, CA
"I've never played against anyone else like Steve - he never has a bad day. He always brings his 'A' game and nothing seems to phase him. So frustrating to play against. I begged him to coach me for over a year, before he finally gave in. The depth of his thought process really blew me away." -- Kyle Harrington, Tampa, Florida