Live Tournament Instructions
To participate in one of our live tournaments follow this simple step by step guide below.
Step 1: Navigate to the "Live Tournaments Page".
If you are on the homepage you can click the live tournament countdown at the bottom of the member page:

Step 2: On the next screen, click the "Public Live Games" button
Keep in mind that registration for each tournament will only open 8 hours before the tournament begins.
Step 3: Find the tournament you want and register.
The automatic login system will open the Live Tournament Lobby for you. You should see your username in the lobby.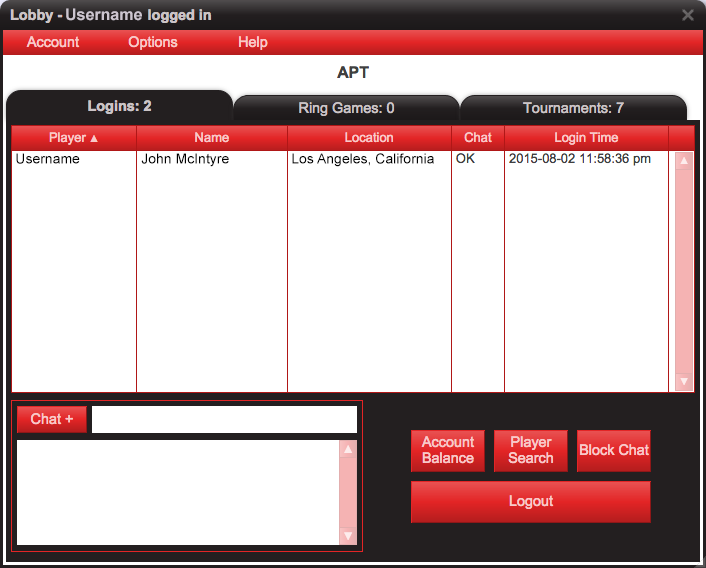 Next, change to the tournaments tab:
Select the tournament in which you want to play:
Click on the "Register" or "Register Late" button on the bottom right:
Step 4: The table will open automatically once the tournament has started
There is nothing else you have to do. Just wait until the tournament starting time and your starting table will automatically open up for you.
If the table does not open automatically, it's possible you got logged out. Restart your browser and open up the tournament lobby again, and your table should automatically open.
Step 5: Confirm that you are ready.
When the tournament starts and your table opens, click the "Ready" button as soon as possible (see below). If you don't press it within the first 30 minutes of the game (or within the first level of a Sit-N-Go), you will be removed from the tournament.
If you can see yourself sitting at the table, but it won't let you play and there is no "Ready" button, you must have been logged out somehow. Close your browser window and start over to log back in.