Congratulations to APT member Marcia Kuntz for her big win at the WSOP Main Event! This was Marcia's first WSOP. She battled her way through the first four days, each day extending her hotel and plane reservation by another day. Marcia finally exited the tournament on Day 5, in 91st Place, winning $ 61,313. In a field of 6,683 players that was almost 96% men, Marcia was nearly the "last woman standing", only outlasted by poker pro Maria Ho, who took 77th, and Mikiyo Aoki, who took 83rd.
A member of Advanced Poker Training since 2013, "MarciaK" has played over 800,000 hands of poker on APT, mostly using the MTT simulator. She also trains by playing tournaments at her local cardroom, Maryland Live.
In "real life", Marcia is a Princeton Grad and a lawyer in the Washington DC area. Below you'll find our interview with her, and some great pictures from the event.
---
Advanced Poker Training: When did you start playing poker? 

Marcia Kuntz: I started playing in about 2007. I was watching poker on TV, and one of the announcers said, "That's David Sklansky. He wrote the book on poker theory."

I had always liked games, including dealer's choice home poker games, and coming from a very math-oriented family, I thought: "There's a book on poker theory?" Or course, it turns out there are many. I bought one of Sklansky's books, read it, joined a practice site, and eventually started playing on Poker Stars. 

APT:  Tell us about how won your buy-in.

MarciaK: It's a bit complicated, but bear with me because it involves a great organization, called All In Enterprises. Eric Prag, founder and head of AIE, runs tournaments in Washington, DC, with a part of the proceeds going for various charities. Tourneys are held on average once every two to four weeks and in various venues all over DC. He instituted the Main Event Challenge, through which a group of regulars in AIE tournaments pay a few hundred dollars at the start of the "Season" -- in November or December -- and through a series of approximately 10 tournaments held between December and June, participants accumulate points (in addition to whatever $ they win) based on where they finish in the tournament. In June, the top 18 finishers compete in a tournament, with starting stack sizes determined by point totals. Participants vote on how the prize money is to be distributed, but all winnings have to be used in Vegas in a WSOP event, with the other 17 players getting a small cut of prize money. In 2014, I won the tournament -- first prize was $6,000, which I decided to use toward a Main Event buy-in (which, like every poker player, I had been dying to play in). I put up the remaining $4,000.

APT: Were you nervous on day 1 and how did you deal with that?

MarciaK: Yes and no. I played on Day 1B, a Sunday. I had arrived in Vegas on Friday afternoon, and immediately signed up for a $235 Deep Stack that started at 6:00 pm. (because what was I supposed to do with myself for the next 42 hours?) I ended up placing 4th out of 899 (played well and had a ridiculous suck-out which kept me alive shortly after the money bubble). I busted at about 7:45 am on Saturday and cashed for $11,000, so my Main Event buy-in was covered and then some. Slept much of the day Saturday, lounged by the pool, and read a book. On Sunday, I started the tournament with the attitude that I had already made money on my trip, had never expected to be there, and didn't expect to last. I played sloppily and too aggressively, and by the end of the first level, was down to 19,000 chips. By then, I realized that I would be furious with myself if I didn't make the most of the opportunity. I ran into some AIE buddies during the break, who encouraged me to settle down. Later in the day, another AIE friend texted me through some jitters. I finished Day 1 with 37,000 chips (about 70 BBs starting on Day 2) and was focused and excited.

APT: How did you stay focused every day, were you mentally drained by day 5 or still feeling "the rush"?

MarciaK: I was fine until Day 5. I had had such a good run -- finishing Days 2-4 with way above average chip stacks -- that I was a bit unfocused on Day 5. Part of it must have been exhaustion, but part was also that I had already done so much better than I had imagined, that I lost my edge. I was getting a lot of ESPN attention -- did several interviews on Day 4, and first thing on Day 5 -- as one of the few remaining women, a first timer, and a divorce lawyer from Maryland (the last two of which factors contributed to Norman Chad's taking an interest -- he commented, "Divorce Attorney? I thought she looked familiar!").  I was at one of the featured tables starting on Day 5. I had not expected the attack of nerves. I have had some media experience, so the interviews were fine, but playing on TV with your hole cards showing was a whole different experience that I wasn't prepared for. I made several mistakes, including the final hand, which I am still kicking myself for (and, believe it or not, still waking up in the middle of the night over) -- 19 months later. 

APT:  Any favorite hand from the event?

MarciaK: On Day 2, I believe, I shoved on the river, repping a flush (with nothing -- A-high) and got a pro to fold a straight face-up. Up to the river, my play had been consistent with a flush draw, and I decided to go for broke (still residual fearlessness from my $11k win.) To this day, I don't know if it was a colossally stupid thing to do, but I chipped up significantly, and acquired some confidence.

APT:  What APT features do you currently use the most?

MarciaK: I use the MTT simulator, with tournament settings that simulate the structure of local tournaments I play in regularly (including AIE and casinos). 

APT: Any advice for new APT members who really want to make the most of their training?

MarciaK: I regularly consult the "hands" page and the "position" page in the reports and have gotten some valuable insight into my tendency to overplay certain hands and positions.

APT:  Any final advice for someone playing the WSOP main event for the first time?

MarciaK: Probably nothing they won't already have heard. But a couple of thoughts. Focus on playing well and consistently -- it is a true grind, if you last. Others may disagree, but hero calls don't win tournaments, and people who make one or two successfully are generally not playing their A-games. Overly loose players can accumulate massive chip stacks early and just as quickly lose them.  Focus on steady chip accumulation and make good folds. (To me nothing indicates that I'm playing my A-game better than a smart fold.)



Prior to the Main Event, Marcia wins a tournament held by
All In Enterprises (photo courtesy of All in Enterprises)
Interview with ESPN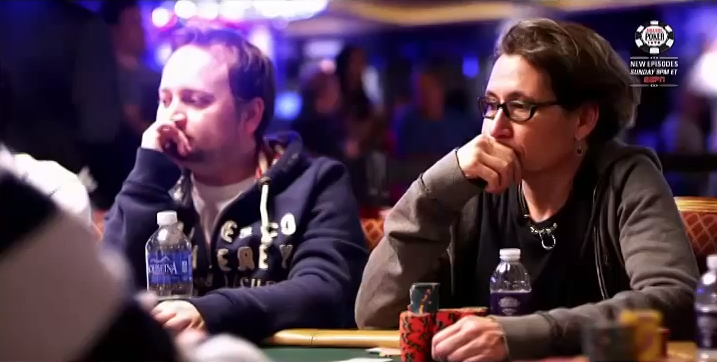 Playing the big stack: Marcia Kuntz
Day 5: Marcia makes quads and gets raised by Hieu Nguyen!
(see full video here)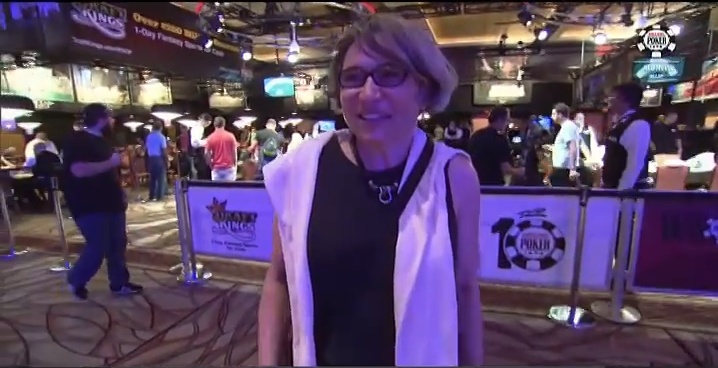 Arriving for Day 5!
Interview at the break on Day 5. Full video here